Upon receipt of a recent letter from our partner Notifier by Honeywell, we are pleased to announce our continued growth and 2nd year of membership within the Notifier Gold Partner Programme which is now in its 6th year running.
The Gold Partner Programme represents and highlights the highest standards in fire safety, working with Engineered Systems Distributor (ESD's) who share these values and commitment in practice.
Training directly with the technology source at Notifier, our engineers provide the most up to date and in-depth capability in the design and installation of fire systems, taking pride in providing quality and reliable protection to each projected supplied. As one of only a few Notifier Gold Partners in Scotland, King Communications & Security enjoy a wealth of benefits from the programme such as training and marketing spend, allowing us to provide an enhanced service to our clients due to access to various CPD and technical platforms.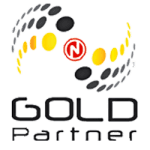 Martyn King, Director at King Communications & Security said:
'I'm delighted to see the continued support and growth in the partnership year on year and our team are elated at being part of a select group of providers working to install and maintain fire systems at this level.'
King Communications & Security look forward to the year ahead working alongside Notifier and the Fire Industry Association to provide excellence in Fire and Life Safety service offerings.
Explore some of our Notifier system installation projects, here.